By Gabrielle Muniz and Dillon Henry
Image: NBC News
"The absence of Latinos as executives and producers is a key factor in the current marginalization of Latino talent and stories" (Negrón-Muntaner, 2014, p. 20).
Hollywood has never been known for its inclusion or diversity in its stories, stars, or creators. They are known for telling the same white stories starring the same white actors as a result of a long history of an industry excluding people of color from writing, producing, and directing their own narratives. These marginalized communities thus have yet to see themselves responsibly and appropriately portrayed on screen. Specifically, the underrepresentation of Latine creators in key Hollywood film production roles has a direct correlation to the cultural annihilation, continued marginalization, and stereotyping of the Latine community in the United States; as with any community however, with an increase in offscreen roles, the onscreen representation of the Latine community would result in greater and more responsible representation.
All of the images featured along side this essay will aid in the discussion of Latine representation behind the scenes and the implications of that presence behind the camera.
Images: UCLA Hollywood Diversity Report 2014
The statistical research reflecting the number of Latine producers, directors, and writers (among other production roles) throughout theatrical Hollywood films in the first 20 years of the 21st century has proven steady but minimal growth in Latine representation in key roles behind the camera.
The UCLA Hollywood Diversity Report (2014), collected and compared statistics on the two broad data sets white and minority creators. Findings reported that 12.2% of the 172 theatrical releases accounted for in 2011 were directed by people in minority groups, 2 of which were instances of films directed by Latine individuals, and 7.6% of the 172 films were written by members of a minority group, 2 of which again were films written by Latine individuals. One observable and surface-level oversight in this study is the lumping of all minority creators together, and so does not give specific recognition of Black, LGBTQ+, disabled, or–of course–Latine creators. These two broad categories further overlook the role of women in film, and in the case of this discussion Latina creators. In lieu of these oversights, industry history and modern tendencies of the minimal involvement of Latine creators imply that Latine creators, and Latina creators especially, were greatly excluded from Hollywood production and ultimately heavily underrepresented.
Image: UCLA Hollywood Diversity Report 2020
In more recent years however, as the UCLA Hollywood Diversity Report (2020) states, Latine industry workers in major Hollywood films have increased in numbers from 0.7% to 2.7% in directing roles and from 0.7% to 2.8% in writing roles. White the latter two numbers are larger relative to their respective former statistics, they are nonetheless dwarfed in comparison to the numbers of white industry workers, and even more so by those of white men. The report in fact explicitly states "[women and people of color] still have a long way to go before reaching proportionate representation in this critical employment arena, underscoring how much more resistant Hollywood decision makers have been to advancing diversity behind that camera than in front of it" (Hunt & Ramón, p. 16).
Image: Google
In addition to the plethora of academic studies pointing out the exclusion of Latine filmmakers in mainstream Hollywood, there is a great deal of surface level evidence that can be pointed to in order to understand the lack of diversity.
First of all, as seen above, a simple Google search for "film director" will yield a set of household names. These individuals, all accomplished in their own rights, are predominantly white and all of them are men. Take note the search did not specify directors who are men nor did it specify white men, but glaringly not a single Latine man or woman appears on this list of top 10 filmmakers. A simple Google search is based on algorithm and simply the most popular searched for names who are deemed filmmakers. Being that not one of the directors present on Google's systematically generated is not a reflection of the number of Latine filmmakers, but of Latine filmmakers who have access to the Hollywood studios and budget that are afforded to white men. This is not to say Google is racist for this, but it is indeed a reflection of who Hollywood overwhelming selects to fund and put in the spotlight.
This next set of photos reinforces this claim and visibility of Latine invisibility in Hollywood. These screenshots taken from the educational streaming site Masterclass is of all of the classes they offer pertaining to film.
Images: Masterclass
Of the 17 creators featured on Masterclass, five are women (of them one is Indian, the rest are white), two more are Black men, and the rest are white men. Again, indeed, all accomplished filmmakers, but the stark lack of the Latine community being recognized is a visual reflection of simultaneous erasure from the mainstream and accomplishment elsewhere.
Stories are told through experiences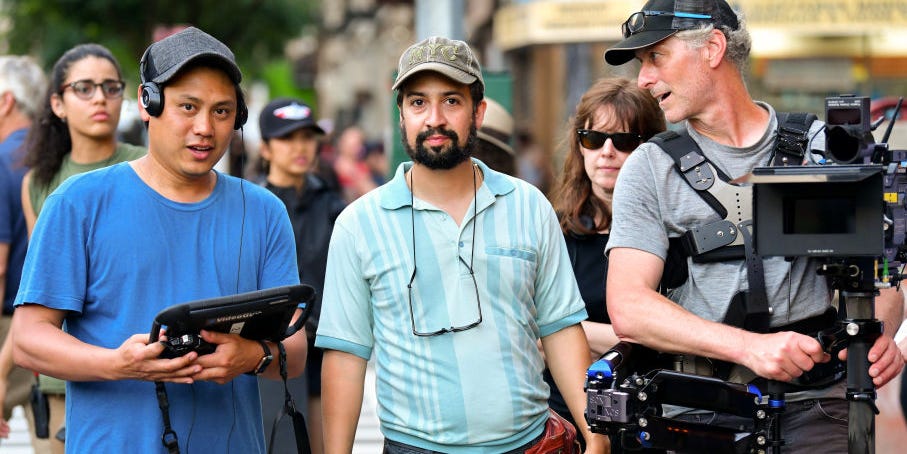 Image: Town&Country
"POV is important wherein it captures the nuances and subtext that outsiders with a different POV may not have" (Sayson, p. 31).
As mentioned at the beginning of this essay, as well as in all the aforementioned reports focusing on the disparity between race and gender statistics within the film industry, it becomes increasingly evident that film storytelling is directly correlated to the identity of the group telling the story.
Granted, not every story centering a white individual is told by a white director, but instead that every story told by a white director, writer, or producer is told through a white lens. Even when that white creator attempts to tell the story of a person of color it is still told through an identity that cannot be completely sympathetic with that of the experience told in the story. Because of increasing awareness of levels of intersectionality, there may be some understanding of experience, but, because race influences significantly anyone's experience in the United States, there can never be a story told by a white director about a person of color that is completely genuine to that identity.
For so many years, Hollywood's white male domination has limited mainstream film's access to authentic stories about "outsiders." There is an unfathomable number of untold, diverse, but underrepresented stories by those who have not been given the platform that white men have predominantly had for the last century, and with recent progress the blossoming possibility of a fraction of those new stories has become visible at last.
In addition to authenticity of stories to be told, the number of diverse stories increases when the number of diverse creators increases. In 2019 the USC Annenberg Inclusion Initiative along with the National Association of Latino Independent Producers (NALIP) and Wise Entertainment found that there was in fact a direct correlation between an increase in Latine representation off and on the screen. "When a Latino director was attached to a film, the percentage of Latino characters on screen increased from 4% to 13%. Similar increased were observed when a Latino producer worked on a movie–the percentage of Latino characters on screen climbed from 4% to 9%. FInally, when a Latino casting director was attached, the on screen prevalence of Latino characters improved from 4% to 10%" (Smith et al., 2019). To put the Initiative's research to example, that positive correlation between off and on screen Latine representation can be see wholeheartedly in Puerto Rican playwright Lin-Manuel Miranda's 2021 feature film In the Heights, which was based off the stage musical by the same name written by Puerto Rican playwright Quiara Alegría Hudes. In the Heights is a prime instance of a Latine story written, produced, and starring Latine creators, insisting, along with USC Annenberg's research, that when given the key positions of film production, Latine people were able to promote and portray their community effectively, responsibly, and authentically on screen.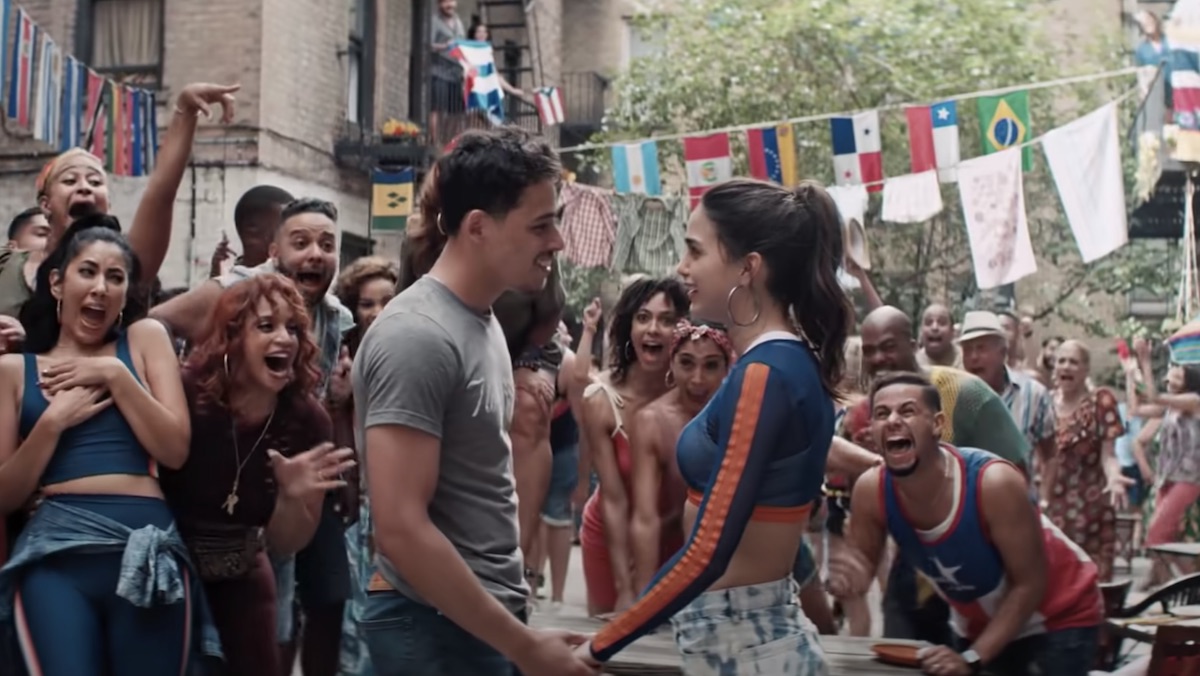 Image: Avalon Theater
References
Hunt, D., & Ramón, A.C. (2020, February 6). Hollywood Diversity Report 2020: A Tale of Two Hollywoods. UCLA Social Sciences. Retrieved July 1, 2021, from https://socialsciences.ucla.edu/wp-content/uploads/2020/02/UCLA-Hollywood-Diversity-Report-2020-Film-2-6-2020.pdf
Hunt, D., Ramón, A.C., & Price, Z. (2014, February 12). 2014 Hollywood Diversity Report: Making Sense of the Disconnect. UCLA Social Sciences. Retrieved July 1, 2021, from https://socialsciences.ucla.edu/wp-content/uploads/2017/09/2014-Hollywood-Diversity-Report-2-12-14.pdf
Martínez, V., & Ylanan, A. (2021, June 13). Long underrepresented in film and TV, Latinos are falling further behind. Los Angeles Times. https://www.latimes.com/entertainment-arts/tv/story/2021-06-13/latino-gap-representation-tv-movies-roles-writers-directors-executives
Nancy De Los Santos Reza. (2019). The Bronze Screen: 100 Years of the Latino Image in Hollywood Cinema [Video]. Vimeo. https://vimeo.com/349687470
Negrón-Muntaner, F., Abbas, C., Figueroa, L., & Robson, S. (2014, June 6). The Latino Media Gap: A Report on the State of Latinos in U.S. Media. Latino Rebels. https://www.latinorebels.com/2014/06/17/the-latino-media-gap-a-report-on-the-state-of-latinos-in-u-s-media/
Rodríguez, V. & Beltrán, M. (2016). The Routledge Companion to Latina/o Media, 156-170. https://doi.org/10.4324/9781315858005
Sayson, J.P.M.D. (2019). Latina Voices Behind the Camera: Shifting the Focus toward Latina Filmmakers. ScholarWorks. http://hdl.handle.net/11714/6611
Smith, S., Choueiti, M., Case, A., Pieper, K., Clark, H., Hernandez, K., & Martinez, J. (2019). Latinos in Film: Erasure On Screen & Behind the Camera Across 1,200 Popular Movies. USC Annenberg. Retrieved July 1, 2021, from https://assets.uscannenberg.org/docs/aii-study-latinos-in-film-2019.pdf