Pop music is one of the defining aspects of culture, and with some music videos getting over a billion views, it is undeniably powerful in terms of its influence across the world. Over the past decade, depictions of women are starting to change, with women defining for themselves what it means to be "beautiful" and women gaining control of their sexuality. We will examine several music videos made by female artists who have defined this decade.
This is Miley Cyrus's first video after years of playing the sweet, country-pop singer Hannah Montana on the Disney Channel. In the video, we see Miley trapped in a large birdcage, a metaphor for the boundaries that society has placed on her, and we watch as she eventually breaks free of her prison. It's clear that this is her attempt to break free of the Hannah Montana character and redefine her image. Released the year that she turned 18, this video is also Miley's declaration of her adulthood — but more specifically, her womanhood and her sexuality. When this video premiered, the masses were shocked at her performance because her main fanbase was made up of teenagers and pre-teens and their parents believed that Miley Cyrus as a sexual being was a negative image to convey to young kids. 
2. S&M – Rihanna (2011)
Garnering over 100,000,000 views, S&M is one of the most blatantly sexual songs of the decade, with the title referring to Sadism and Masochism, a kind of BDSM. Very rarely do we women publicly declaring their sexual preference and it is even rarer for a global pop sensation to specifically reference the BDSM and kink communities in a song. From the video, it's very clear that Rihanna is empowered and is in control of her sexuality — we see her acting as a dominatrix, inflicting pain on others, and as a rope bunny, as an exhibitionist, as a pet owner, and kissing members of the same sex. 
The lyric, "sticks and stones may break my bones, but chains and whips excite me" is a direct reference to BDSM and what's important to note here is that BDSM is built on trust and communication and even when a submissive is acting in the submissive role, they still have control with regards to being able to stop the action at any point (if not, it's abusive). Rihanna articulates her preferences loudly and proudly, making S&M one of the strongest examples of female sexual liberation found in any music video. 
3. Formation – Beyonce (2016)
Beyonce is perhaps the most influential singer of the past two decades. Formation is a feminist anthem, but specifically, is a black feminist anthem. The song speaks to Beyonce's experience as a black woman and is a showcase of her pride in her identity. Black women (in songs produced by men) often function as one-dimensional sexual objects, but Beyonce is a perfect example of an idol who counters hegemonic thought in regards to womanhood/motherhood in the music industry.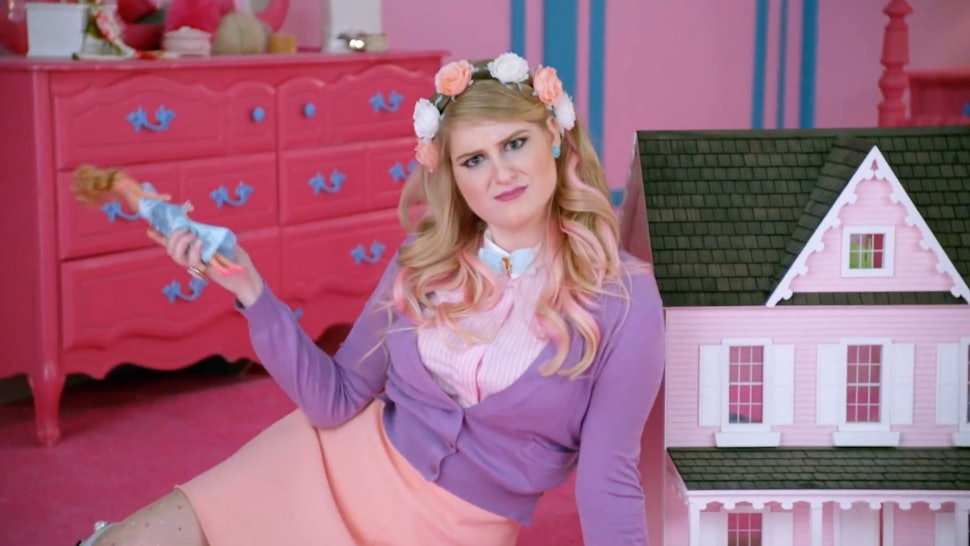 With a whopping, 2.3 billion views, All About That Bass is the most viewed video on this list. It's raging success is likely because the song is a departure from the norms that state that beauty is Barbie-esque and declares that "the bass" (or "thickness) is desirable. Trainor critiques the industry for its use of photoshop and espouses a body-positive message that was nearly unheard of in mainstream pop culture.
The song has become a body-love anthem with lyrics like "I know you think you're fat / But I'm here to tell you… / Every inch of you is perfect from the bottom to the top" and "You know I won't be no stick figure, silicone Barbie doll / So if that's what you're into, then go 'head and move along."
5. Anaconda – Nicki Minaj (2015)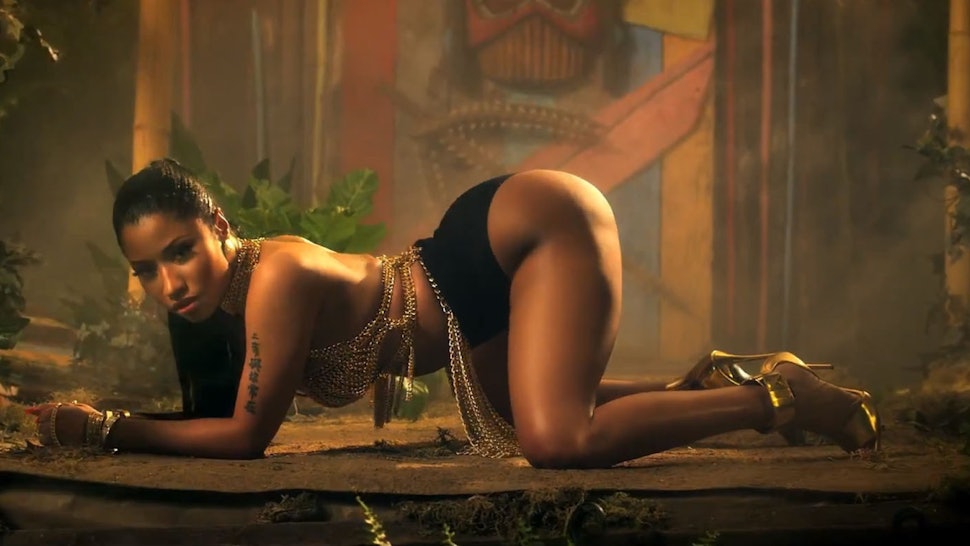 Anaconda is Nicki Minaj's ode to large booties and it had a huge impact in changing beauty standards for women. After Anaconda, girls wanted a big booty as opposed to a small one. In the video, Minaj displays her body with pride, countering Western beauty standards that say to be beautiful, you must be thin and blonde. At first, it seems like Nicki is being sexualized, but really, she has created her own jungle world where she is in control and where there are no men. She is not a sexual object, but a sexual being, with her own autonomy — she is unapologetically sexual and she does not exist for the male gaze and she is free to explore her sexuality free from it. We see Nicki shown in erotic situations with other women, which is rare in an industry with so few queer women of color.
The only man we see in the video is her friend, Drake, who she gives a lapdance, but she completely dominates him as he sits powerless and then at the end, walks away in a tease, showing her complete control. What's important to note here is that Nicki's work exists in the male-dominated Hip-Hop climate, where she emerges as a force to be reckoned with. She was the first female Hip-Hop artist to go Platinum in nearly a decade and she is unrefutably the defining female Hip-Hop artist of the 2010s. 
Look What You Made Me Do is a departure from the classic "fairytale princess" Taylor Swift and we see her fully-empowered. There is a part in the video where she sits on a throne and is served tea by a snake, showing her power and prowess. We also see Taylor in a cage, much like the imagery in Miley Cyrus's Can't Be Tamed — the cage represents societal constraints put on Taylor and all women. In the photo above, we see Taylor in a bathtub of jewels, with a $1 bill to her right. The dollar bill represents the $1 she was awarded in the 2013 sexual assault case against DJ David Mueller. She was sexually assaulted and won her case, so the dollar in this video represents the empowerment she has found in the aftermath of that instance. Taylor Swift is one of the most iconic singers of this decade, with this video sporting over a billion views.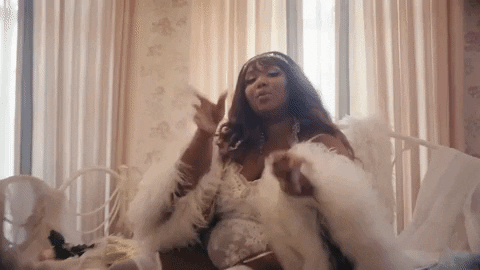 Lizzo's Truth Hurts is about self-empowerment and self-love, and she reminds the listener that they are beautiful, strong, powerful, and worthy and that they don't need a man in order to feel that way. The video centers around a wedding, but we don't see the groom, but at the end of the video, we see that Lizzo is marrying herself — the truest declaration of self-love imaginable. The song is a post-breakup anthem, where Lizzo is reminding herself that she is #1.
The song starts with the question "why are men great 'til they got to be great?" Lizzo tweeted that this is criticism against men in power and generally against the inability of men to manage their positions effectively.
Lizzo's songs center themes of body-positivity and this video, in particular, emphasizes that women of any size are worthy of loving themselves and being loved by others. She does not deny the sexuality of heavier women, instead, she emphasizes it. The media likes to sell the idea that beauty is synonymous with being skinny, but Lizzo (along with Nicki Minaj and Meghan Trainor) is working to dismantle that ideology and promote body-positivity.
8. Bad Guy – Billie Eilish (2019)
Billie Eilish is a 17-year-old taking the music world by storm. She is tomboyish and intentionally wears baggy clothes in order to avoid being sexualized, which is another way of taking control of her body and the perception of it. Rather than being scantily clad and owning her sexuality, she is baggily-clad and owning it. In Bad Guy, Eilish showcases herself as powerful and even gets to humiliate some men in the process. For instance, her taunts include everything from force-feeding them milk to sitting on them while they do push-ups. She claims that she's the "bad guy," which is an act of defiance of female stereotypes.
---
Seeing as we're five months away from its end, we can look back on the last ten years. The 2010s were a pivotal decade for women's liberation in popular music — women became more empowered in terms of both their ability to own their sexuality and their personal empowerment. Music made during this decade had the ability to change the norms of what was considered beautiful (bigger butts and more bass). The music became less exploitative and female artists had more control over the content that they were making.