The visibility of minority groups in the US is important because it validates many diverse perspectives and offers historical and cultural context. The lack of accurate representation in the media creates negative and cliche stereotypes that are harmful to marginalized populations. The U.S. population, according to the 2010 U.S. census data, is comprised of 72.4% White, 12.6% Black or African American, 4.8% Asian, 0.9% Native American, 0.2% Native Hawaiian, and 9.1% other races. With over 20 million Asian / Asian-Americans living in the United States, the lack of  representation of Asians in media is staggeringly low. Issues like intersectionality, lack of visibility, and lack of queer representation are exposed more in films produced in Asians countries, more so than Hollywood, which is ironic. Several organizations and different forms of media are thus created by the Queer Asian Community as their involvement in a larger discussion upon representation.


The article,  How the New Queer Asian American Criticism is Shifting the Way We See Art, creates an important discussion of queer theory in Art History and applying both old and new knowledge of intersectionality between the asian race and queer identities into a book titled Queering Contemporary Asian American Art.
"As a whole, the book focuses on how the queer perspective denaturalizes any number of categories, using the idea of "queering" as an operation to explore issues beyond gender and sexual orientation."
Bretman Rock is a 19 year old makeup artist, youtube star, influencer, etc. In an article by Advocate Magazine, David Artavia writes  "Although Rock's family was aware of his nonconforming gender expression, that didn't immediately translate to embracing his sexual orientation. Growing up in a religious Filipino household, Rock recalls his father once saying he "would 'kill me' if I ever came out gay." Although his dad eventually came around, Rock says he can "relate to [people] who are scared of coming out due to religious beliefs or because they're scared" (Artavia).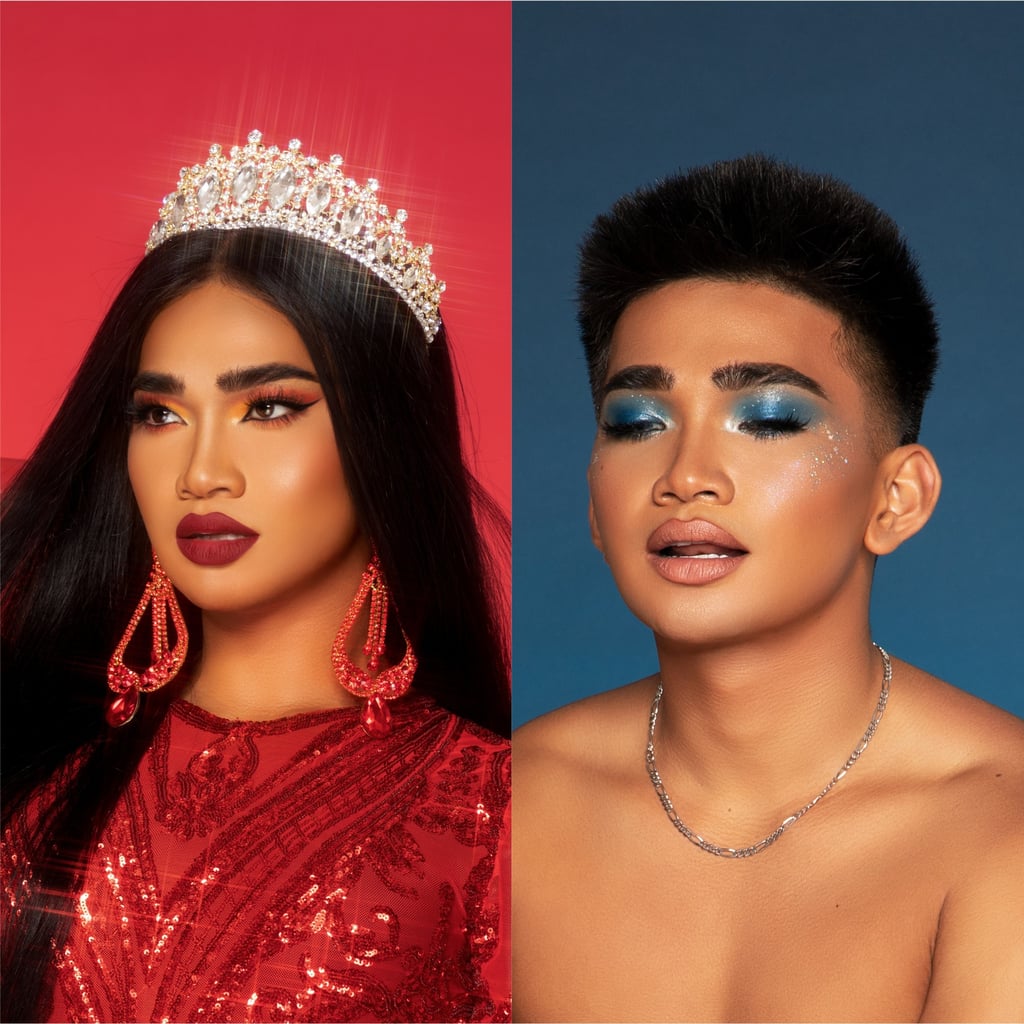 Source: Popsugar
Being both queer and Asian represent two different minority groups in many western countries.  This unique situation is explained in Invisible Asian Americans article, "In many Asian Americans' families, being a good student is synonymous to being a good child. Thus, on numerous dimensions, being gay disrupts one's ability to fulfill these expectations, given that families generally display an aversion toward non-heteronormative sexual orientations" (Ocampo & Soodjinda 2015).
Source: Tumblr
The article, Challenges, Coping, and Benefits of Being an Asian American Lesbian or Bisexual Woman states  "some participants reported difficulties living with multiple and intersecting minority identities related to racism, heterosexism, and sexism. This domain included three themes: living as an AA sexual minority women in the context of Asian culture, invisibility, and sexual stereotypes, fantasies, and fetishization" (Sung et al).
Source: IMDB
Films like Saving Face, a movie about a mother and daughter and the struggle between acceptance of being gay in Asian/ Asian American culture came off campy, cheesy and even a disservice to representations of queer asian women in American media.
In a review written by Kristi Mitsuda for IndieWire, Mitsuda argues the issues that are problematic in Saving Face, saying "But rather than examining intergenerational cross-cultural rifts in a real way, these stories trade on idiosyncratic quirks of ethnicity that, more often than not, serve only to further stereotype whatever racial group at hand. Instead of fleshing out the clichés and illustrating their basis in reality while also bringing to bear a deeper degree of nuance, such culture-clash endeavors take the easy way out by caricaturing while ostensibly humanizing. So it is that the festive Greek family, hysterical Indian parents, and gossipy, matchmaking "Chinese biddies" are all absorbed under the banner of "endearingly zany," this making-cute as ideologically suspect as other representations" (Mistuda).
Source: Facebook
Source: Tumblr
The queer Asian / Asian-American community exists all over the world but it is not visible in the Western media. American Queer films like Call Me By Your Name and Blue Is The Warmest Color have become more prominent representations of queer identities and sexualities in American media, but remains problematic due to lack of inclusivity with minority groups, like Asians / Asian-Americans. This leads to the visibility issue because the storyline of these films are central to straight actors playing queer roles or white characters loving characters of the same race.
According to an article written by Apa Agbayani for CNN Philippines,  this poster for a fictional action film calls back to FPJ-style action and romance, where the gay characters are played by gay actors; offering possibilities for LGBTQ actors to play roles outside the usual typecasting they often experience (Agbayani).
Source:CNN Philippines
There are several Queer Asian organizations that can support previous statements about their existence like, QSEA Community (Queer South East Asian), NQAPIA (National Queer Asian Pacific Islander Alliance), The Gaysian Project, The Gaysian Third Space, and many more networks and organizations that scream "we are visible".These organizations are providing a safe haven to support and encourage queer asians in finding their voice while also sharing their experiences and struggles of being a part of a "double minority" group.
Sources: The Gaysian Project 
References:
Anthony C. Ocampo & Daniel Soodjinda (2016) Invisible Asian Americans:  the intersection of sexuality, race, and education among gay Asian Americans, RaceEthnicity and Education, 19:3,480-499, DOI: 10.1080/13613324.2015.1095169
Artavia, Davis. "Move Over, Kylie: The Beauty World Has a New Star." Gay News, LGBT Rights, Politics, Entertainment, http://www.advocate.com/.
"Finding a Place for the Queer Actor in Philippine Cinema." Cnn, nine.cnnphilippines.com/life/culture/2017/07/14/queer-actors-cover-story.html.
Sung, Mi Ra, et al. "Challenges, Coping, and Benefits of Being an Asian American Lesbian or Bisexual Woman." Psychology of Sexual Orientation and Gender Diversity, vol. 2, no. 1, 2015, pp. 52–64., doi:10.1037/sgd0000085.
"TGP." TGP, http://www.thegaysianproject.com/.
Trouillot, Terence. "How the New Queer Asian American Criticism Is
           Shifting the Way We See Art." Artnet News, Artnet News, 1 Sept. 2017,